10 Year Financing For Wheelchair Accessible Vehicles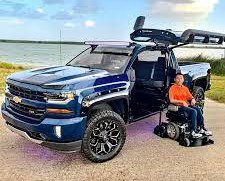 Lets face it, your mobility vehicle is one of your most valuable assets. Which means it is also one of your most expensive assets. We understand that the entry cost to own a mobility vehicle is higher than most people can easily afford. That is why we have worked with our lenders to find our customers long term wheelchair accessible vehicle financing. Having a reliable accessible vehicle is necessary to living the life you deserve to live, and we want to ensure you have the opportunity to live it. 10 Year financing allows you to stretch out the large upfront cost of owning a mobility vehicle over 120 monthly payments, lowering the payments to a reasonable rate you could afford on nearly any budget.
Benefits of Extended Financing Through Morrie's Mobility Finance
Our team is dedicated to assisting our customers live life to the fullest through ownership of wheelchair accessible vehicles and equipment. We work tirelessly to ensure our customers can get into the vehicle of their dreams without financial hardship. Through our years of experience and the stellar financial institutions we partner with we are able to provide some of the most competitive financing options available, offering our customers the following unmatched benefits:
Some of the longest terms available in the industry - up to 10 years
Among the most competitive interest rates available (on approved credit)
Low down payment requirements
Very low monthly payments, as low as $11 per $1,000 financed
What Vehicles Qualify For 10 Year Financing
Finding a wheelchair accessible vehicle that meets all of your needs, is fun to drive or ride in, and you find attractive can be a difficult task. Other Mobility Financing companies may require you purchase your mobility vehicle from a specific manufacturer or dealer, limiting your options and making it harder to find the right vehicle for you. Morrie's Mobility Finance works with all new model vehicles (less than 5 years old) from every manufacturer and nearly any dealer, opening your options to everything the mobility industry has to offer. Whether you want a sleek new Toyota Sienna or Honda Pilot, a contemporary Chrysler pacifica, classic Dodge Grand Caravan from, or you want to get a rugged new Chevy or GMC Truck/SUV we will help you find the 10 year financing you need to get it home and in your garage. We proudly finance vehicles from all major manufacturers, such as VMI, BraunAbility, Freedom Motors, AT Conversions, AMS, Rollx, and Triple S.